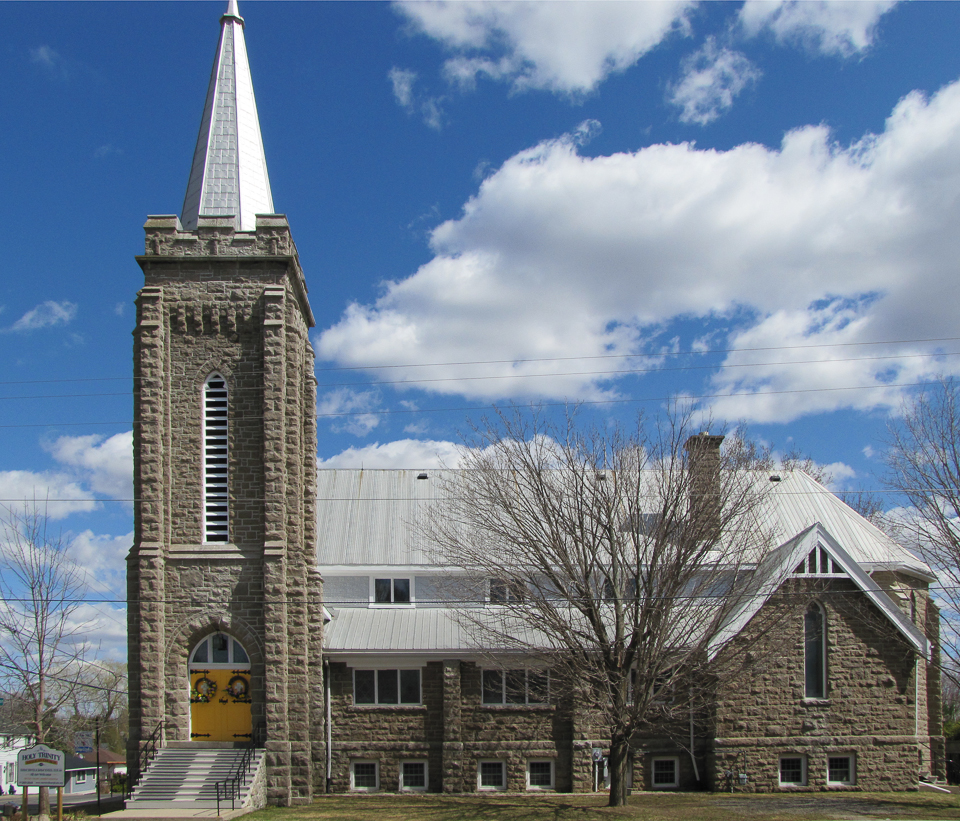 History of Christ Church,
Burritt's Rapids
Construction of Christ Church began in 1831 and was completed the following year. This frame church was designed in the Gothic Revival style, used in churches of that period. The Anglican congregations had been formed about 1822 in this part of Marlborough and Oxford Townships, where the earliest settlers on the Rideau had located. It was ministered to by the Reverend Robert Blakey, Rector of Prescott until 1829 when the Reverend Henry Patton was appointed missionary to this region. Under his guidance, plans were made to erect a house of worship. In 1830, Daniel Burritt donated land for a church and burying grounds at the rapids bearing his name. In 1834, the church was consecrated as Christ Church by the Right Reverend Charles James Stewart, Bishop of Quebec.
In 1931 a stone cairn was erected on the church grounds as a centennial memorial to the brave pioneers who initiated its construction. The stone coping on the top of the cairn came from the Burritt family farm in Bennington, Vermont.
With no major alterations until 1992, this small church, one of the earliest on the Rideau, has served the Marlborough congregation for over 160 years. It has been described by Barbara Humphries, Architectural Consultant, Canadian Inventory of Historic Buildings, as typical in many ways of the early rural churches of the province, which were designed almost without exception in the Gothic Revivial style. A simple rectangular shape and pointed arched windows and door openings are the basic features of these buildings. Individualism is usually found in the design of the tower and spire or in the addition of a decoration accenting the windows.
Christ Church had both an accenting window of circular design and a decorative tower. The window is found on the tower under a pediment of Classic Revivial style. The design of the tower is a highly vernacular interpretation of the Gothic Revival style with the characteristic quoins, crenellations and pinnacles.
Christ Church remains an active Christian community doing ministry within the village of Burritt's Rapids and the surrounding area. We continue to look for new ways to serve God in our area as we share the Good News of Christ Jesus with those around us. We pray that God, who blessed the efforts of those who preceeded us, will continue to bless our efforts today and in the future.